Reuben's Studio - Reuben's Metal Art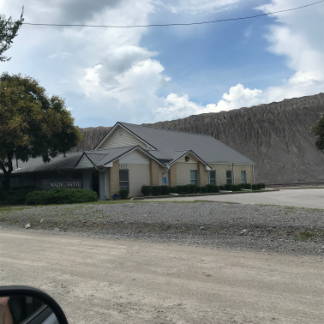 Entrance to Wade, Sand, and Gravel.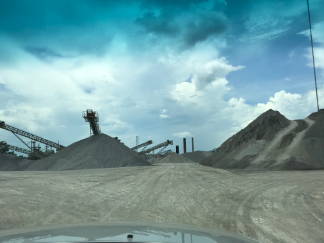 The different grade of Gravel Mountains Reuben sees on the drive to his studio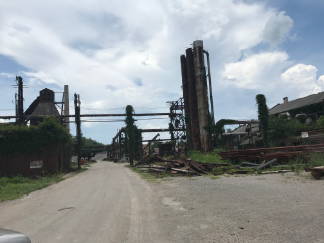 After turning this corner we will see Reuben's studio. Is this not an amazing view of the remains of the 100 year old Republic Steel and Thomas Coke Works?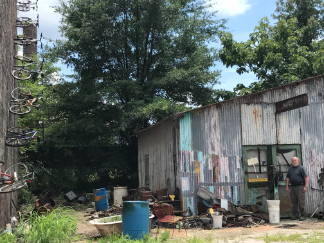 Arrived. Reuben's studio next to the huge bike wall.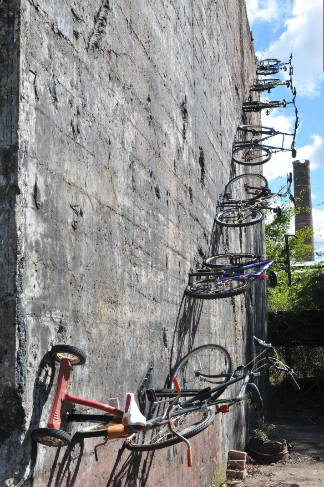 Reuben and Chris Fennell (the artist next to Reuben's studio who makes huge outdoor pieces of art for municipalities) joined together to put these bikes on this outside wall next to Reuben's studio.
At Wade Sand and Gravel, century-old structures still stand from the days of Republic Steel and Thomas Coke Works. This is the historic backdrop for a unique group of artists-in-residence, dubbed The Artist of Thomas Project, founded by Robin and Carolyn Wade.
Reuben's studio was the old electric shop at Republic Steel. You can still read the names of the men who worked there 100 years ago on their locker doors. When he looks out the doors of his studio and sees the old structures of Republic Steel he is at awe imagining its history and the men that worked there.
Reuben uses materials from different locations, and each carries the story of its original location. He collects rocks, stones, wood, granite, instruments, and other materials that he incorporates into his art. The location serves as his inspiration to create challenging and creative works of metal art.
Every piece of Reuben's art tells a unique story. When you experience each work, you will feel its warmth and magic.
Complete Your Space & Dazzle Your Friends
If you're looking for the most interesting piece of unique metal art, look no further! Find the masterpiece metal art that perfectly complements your unique personality, with a piece from our Alabama-based, down-south studio.